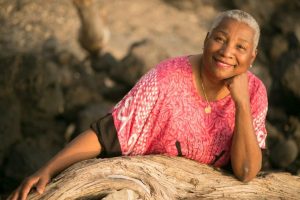 Dr. Carolle is a gifted intuitive and spiritual healer, trained as a board-certified OB/GYN and primary care specialist who has helped thousands of women and few good men over the past four decades. Born and raised in Haiti, she comes from a family of shamans, herbalists, and midwives. Dr. Carolle was educated in top universities in Mexico, Jamaica, and the U.S., giving her a broad-spectrum approach to medicine and invaluable multicultural knowledge. She had a successful holistic private practice in San Diego from 1982 until 2005.
As an international motivational speaker, Dr. Carolle brings her message of self-empowerment and faith through her award-winning books, podcasts, and webinars. She offers by phone intuitive consultations for those who are at a crossroads on their life journey. Or you can spend time with her in her sacred garden in the Mount Helix area of San Diego if you want to experience her healing in person.
Biography
To learn more about Dr. Carolle, read this short biography.
Curriculum Vitae
Dr. Carolle's curriculum vitae, listing certifications, etc.