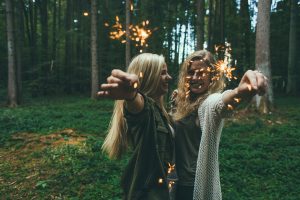 Years ago, I was having some marital difficulties and told my husband that I resented him because he was not making me happy. He laughed hysterically and said, "Dear, I am not responsible for your happiness, you are!" "I have to divorce this guy," I said to myself. And I did, but for many reasons other than just his stance on my happiness.
Now, many years later, we are best friends who are able to laugh about that particular moment, as well as others that were painful at the time. I am, indeed, very happy now and am enjoying the best years of my life. I am content in the knowledge that I alone am responsible for my own happiness.
How did I finally get here? Well, it took a lot of soul searching, a lot of growing up, and after dealing with my own personal life as well as thousands of patients, this is what I have learned and am now able to teach my patients, so others can find the happiness that I have. It is not easy, but if one takes the time to follow these steps, everyone has the ability to make themselves happy!
Basic Needs of Survival:  In the beginning, we all have to deal with basic needs of survival that include air, food, elimination, procreation, shelter, sleep, and water. Many spend their lives stuck at this level because of unfortunate circumstances.
Forgiveness of Self and Others: It is a personal choice to hold a grudge. We all need to realize that others who may have hurt us might not have known any better. In life, most people are doing the best that they can. We all need grace and forgiveness at times and giving these things to others can be extremely therapeutic. Most importantly, we have to learn to forgive ourselves, which is often the most challenging part of this step. Spending our lives blaming ourselves and others, for things that cannot be changed, leads to emotional and physical problems. Forgive others, let go of the past and move on!
Healing of the Inner Child: The adult in us all can rationalize things and move toward forgiveness, but the hurts we suffer as children can be the hardest to overcome. Childhood pain needs to be acknowledged, addressed, and worked through. As we allow ourselves to nurture the happenings of our younger years and come to terms with the scars that helped shape us, we can become a healed, more whole version of ourselves.
Acceptance of Self and Others: When the hurt little child inside of us is healed, we are much further down the road toward not only forgiveness of self and others, but acceptance of self and others. When we accept the positive and negative attributes in others, as well as ourselves, we are truly tolerant. Acceptance and tolerance make us, and the world, happier.
Unconditional Love for Self and Others: When we reach this stage, we can truly love ourselves, just the way we are. We also are able to love others without expecting anything in return, so we are no longer disappointed by the actions of others.
Interconnectedness with a Higher Power: Many who were hurt, or whose needs were never met, often feel that they are all alone and have to take care of themselves. This can be a huge emotional burden and that burden can best be alleviated through a connection to a higher power. It is the connection to faith and the ability to surrender to a higher power that reminds us we are not alone, no matter how overwhelmed we may feel. This strengthens our ability to learn, grow, trust, accept and forgive.
Knowledge of Life Purpose: Having reached this stage, nothing else matters; we find that we can give and receive freely. We have peace of mind and we truly know in our hearts what happiness is.  I am overjoyed to have reached this point in my own life and now find happiness in helping others reach it in theirs.
Remember: Don't worry, be happy!!